These days, when comparative shopping is available at our fingertips, people demand choices.

Gone are the days when there is only one option. This sentiment is alive and well in the medical alert business as well, which is what makes Medical Care Alert an attractive option.

The Michigan-based, family-owned company offers three different options for medical alert systems. Each is priced differently with options designed to suit the varying lifestyles of seniors. The Home medical alert system is your basic system – protection in the home.
Medical Care Alert stands out with award winning customer service, no long term contracts, and a 30-day risk free in-home trial period.
Monitoring Services
Overall, Medical Care Alert is an excellent company that offers quality service. You could not go wrong by choosing a medical alert system from Medical Care Alert. They offer:
Competitive industry pricing
30-day, risk free trial period
US based monitoring facility
Spanish Operators
24/7 Emergency and Non-Emergency Monitoring
Contracts
Medical Care Alert offers a lifetime price guarantee - your price will never go up from the day you purchase this excellent medical alert system.

Another good thing about Medical Care Alert is that there are no upfront fees – no activation fee and free equipment. And for commitment-phobes, no long term contract to sign.
Learn More
Products
HOME Medical Alert System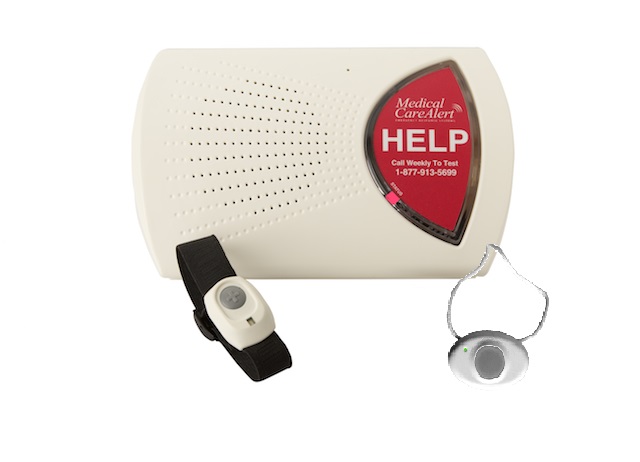 Perfect for folks who stay mostly indoors, the HOME system provides peace of mind for folks who want to remain independent at home.
Key Features
If you need help, press the button. You'll hear a friendly voice over the console asking if you need help. We'll take it from there – calling a neighbor, family member, or emergency services if required. All our agents are EMT certified, and based in the USA.



It comes with two waterproof buttons, worn as a pendant or on the wrist. You can even wear them in the shower!

The HOME System buttons have a 1,000-foot range – that's three football fields in any direction. Optional Fall Detection buttons are available. And a Cellular system is available if you don't have a phone line. The HOME, and cellular based HOME-3G Systems are made in the USA., the company's most popular, offers protection in the backyard and even at a neighbor's house. Instead of speaking to the monitor through the base unit, a senior would use a two-way medical pendant. It makes communication much easier. Medical Care Alert's top-of-the-line system is its Home & Away medical alert system.

Using cellular and GPS technologies, a senior takes a small device with them wherever they go, providing protection nationwide. When they are at home, the device sits in a charger and acts as a traditional base unit.
Home & Yard Medical Alert System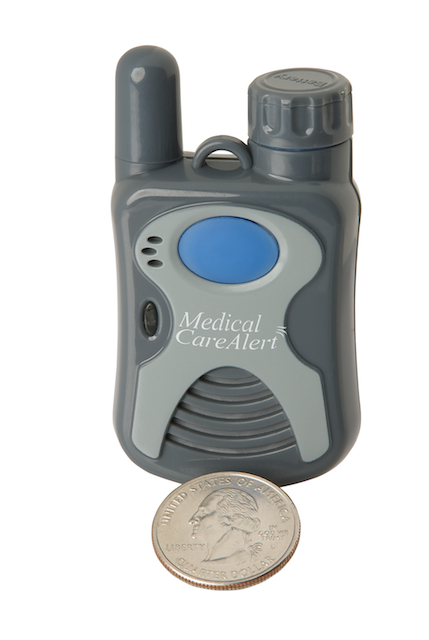 If you're active around your home and yard, this is the system for you. Medical Care Alert's top-of-the-line system is its Home & Away medical alert system.
Key Features
If you're active around your home and yard, this is the system for you. With the HOME & YARD system, you'll speak directly into the pendant if you need help.  This 2-way voice pendant is unique and means you dont have to yell to be heard if you are away from the console base station.

Now you're free to go outside gardening, or check the mail. Go work in the garage, or visit your neighbors. 

With the HOME & YARD System you're protected in a 5-acre area around your home. You won't have to yell for help. You speak directly into the pendant if you need help.

You can even wear your pendant in the shower, where most falls occur. Or, add an optional Emergency Wall Communicator. Keep one in the bathroom, garage, wherever you like.
HOME & AWAY Medical Alert System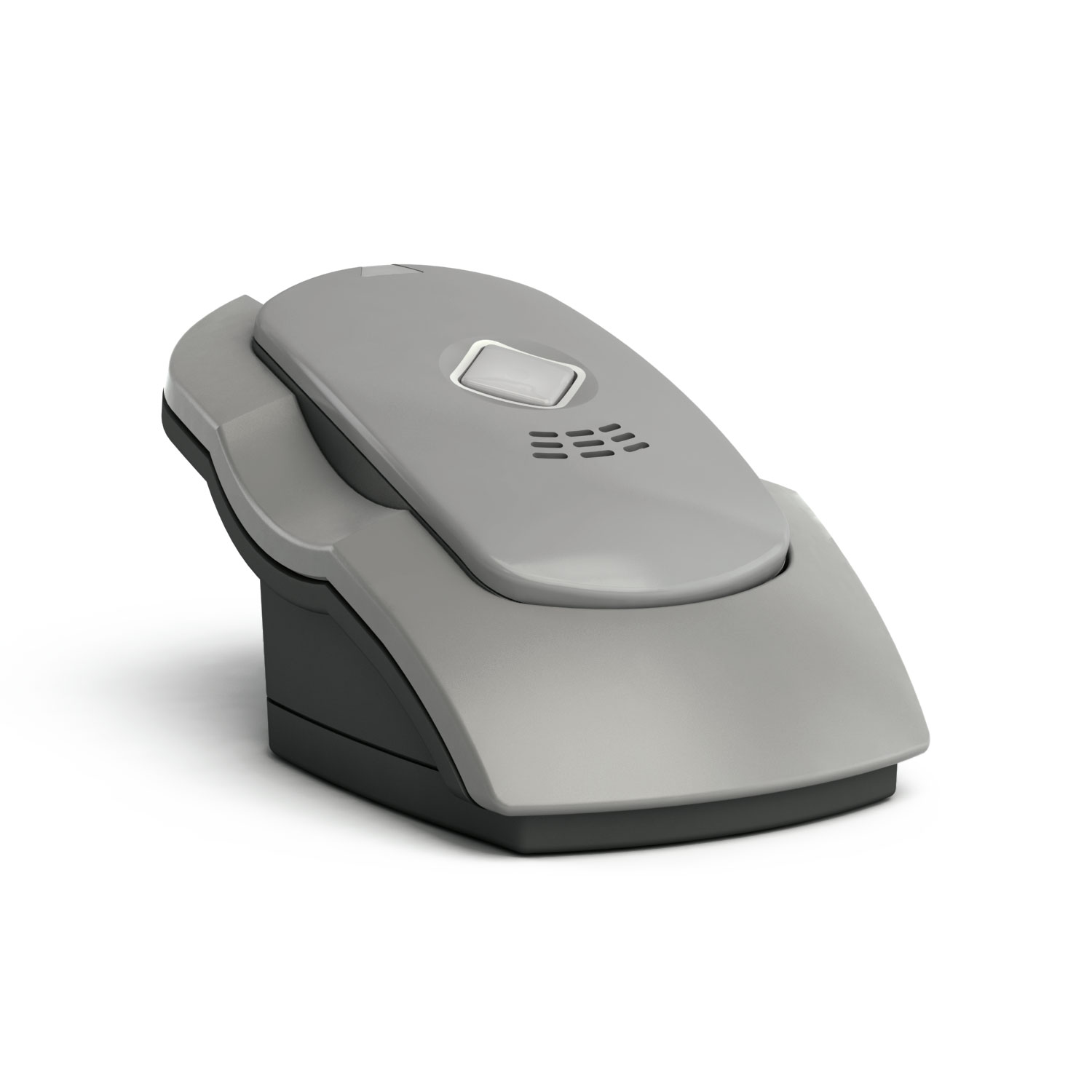 The HOME & AWAY ELITE is the ULTIMATE "Go Anywhere, Do Anything" medical alert system.
Key Features
The HOME & AWAY ELITE is the ULTIMATE "Go Anywhere, Do Anything" medical alert system. 

The ELITE uses cellular GPS. It's Waterproof. It's lightweight. It even has optional fall detection. And … it's affordable. Perfect for folks who are highly active, the HOME & AWAY ELITE provides independence and peace of mind anywhere you go in the USA.

The ELITE comes with a waterproof pendant, worn around the neck or on a belt. You can even wear it in the shower! At night just place it in the charger. The ELITE has a 36-hour battery life…twice that of other mobile alert systems.

Unlike a cell phone, there's just one button to push if you need help. And with GPS location service we know WHO and WHERE you are in the event of an emergency. Your price includes reliable AT&T Wireless service. Go coast to coast, even Alaska and Hawaii!

The Optional Fall Detection feature lets the pendant call our monitoring center if it detects a fall. Unlike other fall detectors, sensors in the ELITE pendant can tell the difference between a drop and a fall – minimizing false alarms. 
Medical Care Alert Customer Reviews
Reba Swonke

"I got this system for my 87 year old father. He has not had to use it yet, but the test for the system set up went well. The pendant is a little bulky but not unreasonably so. So far we are very pleased with this system."
Carol S.

"While I was away my husband had an emergency and used his button. The medics came, took him to the hospital, and informed our daughter. Good to have!"
Susan Hicks

"At this point it hasn't been used, yet. Very important to have the person using the device to test it regularly or they will not remember to push the button and how it works."
Lois Brauer

"I enjoy the peace of mind this alert button provides me. The people I have spoken to are very kind and eager to help with any concerns I may have."
Dan Julien

"One month ago, I was taking an arm-load of papers to the recycle bin and I stepped on a large ponderosa pine cone,my feet flew out from under me and I fell face down on my concrete driveway. I am almost 84 years old and live alone and there was no one to help me. I could lift my head only about six inches above the pavement and I was bleeding rather profusely. I called for help a couple of times to no avail. Then I heard a voice say "Medical Alert detected a fall, are you OK?" I said, "No." Thankfully, I was wearing my Medical Alert button and it detected my fall. Next, the voice asked if I was at home. I responed, "Yes, on my driveway." Then the voice asked if I needed help and if I wanted them to call 911. I said, "Yes" and within about five minutes help arrived. I was kept overnight in the emergency room. I was thoroughly X-Rayed and my forehead received fifteen stitches. My now broken glasses caused considerable damage to my face. My arms, hands and knees were scratched badly in several places. I will be eternally grateful for my Medical Alert button. I don't know what would have happened to me had I not had it. I wear it during all of my waking hours. I highly recommend Medical Alert."
BARBARA KEATING

"Very patient staff, since I set off my device accidentally, at least 30 times. Sorry! Also, the staff is very patient & helpful when I need assistance with the device. I and my family feel very secure knowing help is just a button-push away. I had a very bad fall last year, hitting my head, while on the phone with my daughter in NJ. She insisted on getting me the device, after that. Now she has peace of mind! Your device seems to be the better one around."