Mention coupon code MAC3 to receive a $3 per month discount off any service plan.

LifeStation is now offering a 30-day Money Back Guarantee on all service plans!

LifeStation has been instrumental in providing a safety net for those faced with the potential of requiring immediate medical assistance.

The LifeStation medical monitoring system has been designed by industry veterans who have one goal in mind — Secured Independence. Their monitoring system allows you the freedom to live where you desire — independently in your home — with the assurance that if you require emergency assistance at any time you can reach them with the simple push of a button. LifeStation uses an Underwriters Laboratories (UL) listed monitoring center and their Care Specialists are all CSAA certified so you can be confident that when you need them, they will be there.
LifeStation is a solid medical alert company with options for providing immediate help and contacting authorities in the event of a medical issue.
Monitoring Services
So there you have it. LifeStation is an excellent company that provides excellent service. What more could you ask for?
A+ rating with the Better Business Bureau
Dedicated Response Center
LifeStation will automatically check your system every week to make sure it is working properly.
US based monitoring facility
Constantly monitor each medical alert console to ensure they're connected and charged.
24/7 Emergency and Non-Emergency Monitoring
Contracts
Lifestation has no contracts, no minimums, and no activation fees for any of their systems.
Compare Quotes
Products
LifeStation Medical Alert System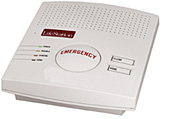 Overall LifeStation is a solid company that likely will not disappoint you and help you live the independent life you crave.
Key Features
There are two types of people in the world – people who love the fancy things with every available bell and whistle, and the type of people who like their items with no frills. Just give them the basics and they are fine. If you are the latter, then a medical alert system from LifeStation is for you.
LifeStation Customer Reviews
Alpha R.

"Excellent! We have had one occasion to press emergency (alert necklace). The ambulance was called. Contact person was called and operator stayed on line and reassured us everyone was coming."
Jean B.

"My LifeStation was a gift from my daughter. I live alone and was having a hard time adjusting to that. I was nervous at night. Now, with the LifeStation it is like having someone else in the house and I have confidence in the service. I haven't had an emergency but I check in on it once a month. I hope I never need it and hope I never have to do without it."
Diane M.

"Totally satisfied. Easy to set up. Nice people on the other end. The one time my mother needed help - she pushed the pendant and everything worked just as it was supposed to. Your monitors have also been very nice when the button has been pressed by accident. I've told many friends of your service. I feel much better when my mother is alone."
Louise F.

"My father became a widower recently and I live 45 minutes away. Out of the 3 companies I researched, yours was in detail, the services, your equipment was easily seen by my father (nice size pendant and large red button on monitor). When ordering, your Care Specialist was polite, answered my questions completely and I felt relieved that my father could get the help he needed quickly. Nothing is as important, as to have your family protected. This is a great burden, to make sure my dad will be fine living on his own as he want to be independent. Thank You!"
Tina Jo and Ken F.

"My husband and I got this for my mother. You all are great! When I test her system the people are always very nice and accommodating. Thank you for caring!"
Ann H.

"Had another problem about 3-4 weeks Ago. Almost passed out in car (parked). Thought it was due to my diabetes. Got home and in garage - had another spell and couldn't get out of car. Waited a bit and got out of car, but could get no farther than back seat of car. Opened door and sat down. Had LifeStation around neck. Pressed it and quickly there appeared an ambulance that took me to the hospital. Thanks a lot!! Was not diabetes - reaction to two medications I have been on."